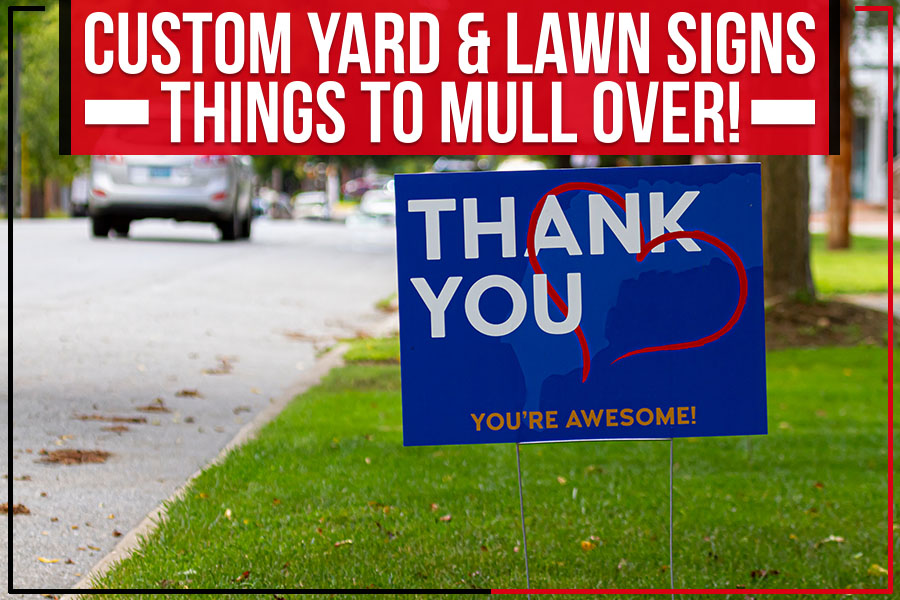 Sprucing up your yard with a custom sign? Or maybe you're looking for a new way to advertise your business? Whatever the case, lawn signs and custom yard signs are the perfect solutions!
They're durable, weatherproof, and affordable, plus you can customize them to feature any message or design you choose. Whether you're looking for unique party announcements or to promote your business, these signs are the perfect solution.
Custom Signs for Your Home
Are you looking for distinct home decorative tips or adding some curb appeal? Custom yard signs stylized to your preferences are an excellent choice! You can choose from various materials, sizes, and designs to create a sign that's truly one-of-a-kind. From fun and festive holiday decorations to elegant and stylish signs for your home, there's sure to be a perfect design for you.
Business Signs
Lawn signs are an affordable and effective way to promote your business. Whether you're looking for a simple "For Sale" sign or something more elaborate, you can customize your sign to attract eyeballs. You can also use lawn signs for advertising special events or sales, announcing new products or services, or even direct customers to your store or outlet.
Lawn signs or billboards are a great way to announce your commercial endeavor. Market your business or product using fun catchphrases and designs on the signboard.
What to Consider When Choosing a Custom Sign Printing Agency?
Pick a company offering various sign options, including banners, flags, and A-frames, in addition to yard signs and billboards.
Select an agency with a good reputation in the industry.
Choose a company that offers discounts or promotions on custom sign printing.
Ensure the agency you select can deliver the signs to your desired location.
The Advantages of Using Custom Yard Signs
There are many advantages to using custom yard signs, some of which include:
They're affordable: Compared to other marketing materials, custom yard signs are very affordable, making them the perfect solution for businesses on a tight budget.
They're easy to set up: You can set up custom yard signs in just a few minutes, which is ideal if you're looking for a quick and easy way to promote your business.
They're versatile: You can use custom yard signs for various purposes, such as promoting a sale or directing customers to your business.
They're effective: Yard signs are an effective way to grab attention and generate interest in your business.
If you're looking for a way to boost your business visibility, yard signs and lawn signs are a great option. At Big Daddy's Signs, serving Ashland, MA, we can help you create custom signage to make your business stand out from the competition.
We offer various sizes and materials to help you find the perfect sign for your needs. Plus, our team is available to help with design and placement so that you can be sure your sign will reach the right people.
Ready to get started? Get a quote today.